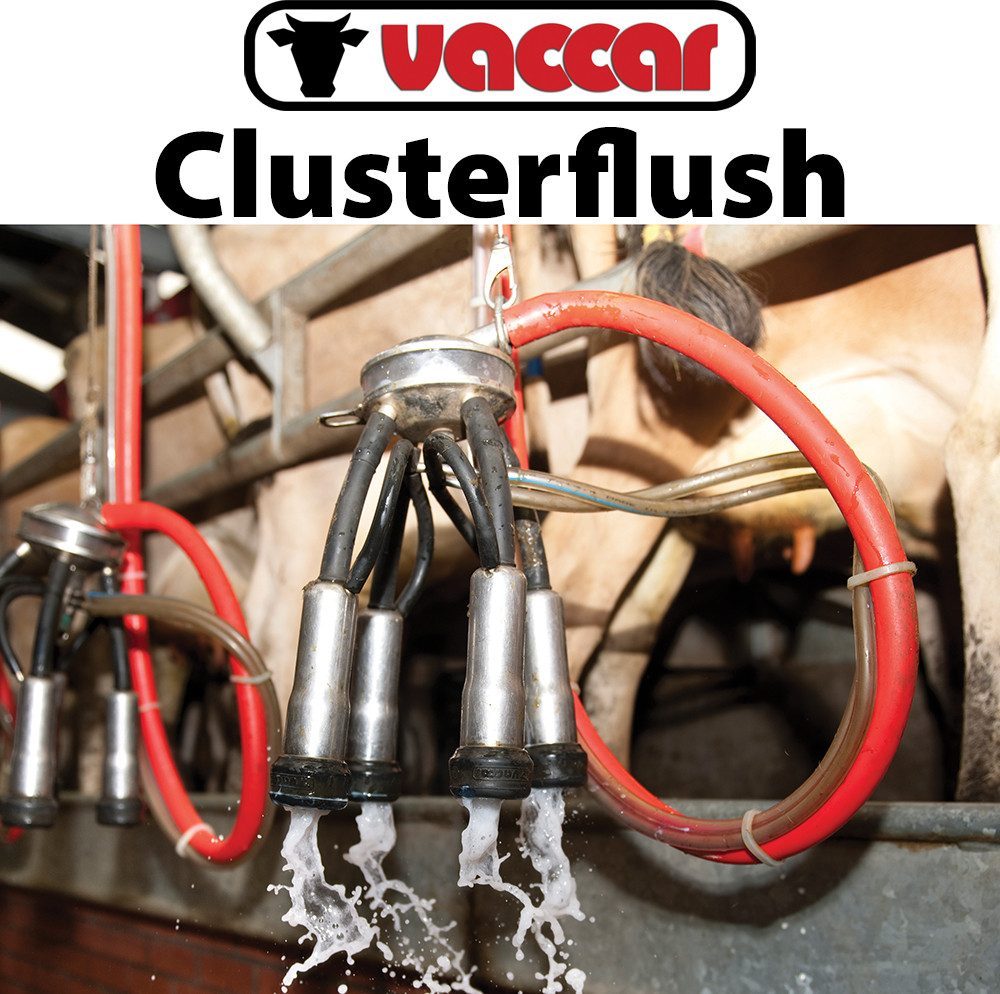 Posted 17.11.23
Reduce incidence of contagious mastitis by installing Vaccar Cluterflush™
The level of contagious mastitis in dairy herds is widely acknowledged to be heavily influenced by the milking practices and equipment hygiene in the parlour.
Hygiene practices
Contagious mastitis pathogens, such as Staph.aureus can be spread from cow to cow via the milking cluster. This occurs because there is always some milk left under the lip of each liner when the milking of a cow has finished. If that cow was mastitic, then that bacteria can be carried on the liner as far as the next 6 to 8 cows in any milking.
So an effective cluster cleaning routine will require the removal of all milk from the cluster (and the milk tube), and a thorough cleansing of the unit between cows.
While some farms adopt the practice of cluster dipping in bactericidal chemical, this method is not always fully effective or efficient. Cluster dipping also takes up operator time, and requires vigilance on the concentration of the chemical wash if it is to remain effective throughout the milking session. However, being diligent with chemical wash also increases costs! Moreover, this method of stopping bacterial spread involves cleaning only the cluster, and not the milk tube which can also harbour contagious bacteria.
The automated Vaccar Clusterflush™ system is a significantly more thorough, effective and economic way to eliminate cow to cow cross-infection of contagious bacteria. And once installed, it does not take up operator time, or have a high chemicals cost.
How Clusterflush™ works
A Vaccar Clusterflush™ system consists of two control boxes which are installed at each milking point: one incorporates the compressed air and water solenoid valves, while the other houses the PCB which manages the system.
Clusterflush is triggered when the cluster is removed from the ACR system. First, the vacuum is re-applied to sweep any residual milk from the cluster and long milk tube. Next, water or sanitising solution is introduced into the tube and cluster. Then follows a series of blasts of compressed air in-between more flushes of water/sanitisation. A final blast of compressed air removes any residual water or sanitising solution from the cluster and tube.
This whole process takes only about 30 seconds from the time the cluster is removed, and so it does not extend milking time.
Veterinary trials have concluded that Vaccar Clusterflush cuts down cross-contamination by up to 99.9%, and it is also effective in the reduction of coliforms, e.g. E.coli.
Retrofit Clusterflush™ into your parlour!
The Vaccar Clusterflush™ system is suitable for use with all parlour designs fitted with ACRs or milk meters.
To retrofit into an existing parlour, all that is required is a 'Y' piece connection in the long milk tube. Sometimes the claws may need a simple modification, but otherwise there are no other changes needed to the original milking equipment.
---
Clusterflush benefits
Can be adapted to all parlours
No special liners required
No need to cut new liners to insert injectors
Reduced clinical mastitis cases
Substantially reduced vets bills
Lower cell counts
Reduced coliforms
Cuts penalties
Less milk wastage
Reduced labour costs
Better working environment
Higher profits
Short return on investment
---
Installing the Vaccar Clusterflush system in your parlour requires the expertise of a Vaccar-approved engineer. For details of your nearest installer, you can contact Dairy Spares on 01948 667676.
Tags: Clusterflush, Vaccar